Oh fun times in the Garvin household. We took the '95 Miata for inspection and it failed (the only thing besides mounting tires that Paul can't do on his own).
Dang this picture is old, I now have Koni shocks and Flyin' Miata springs. lol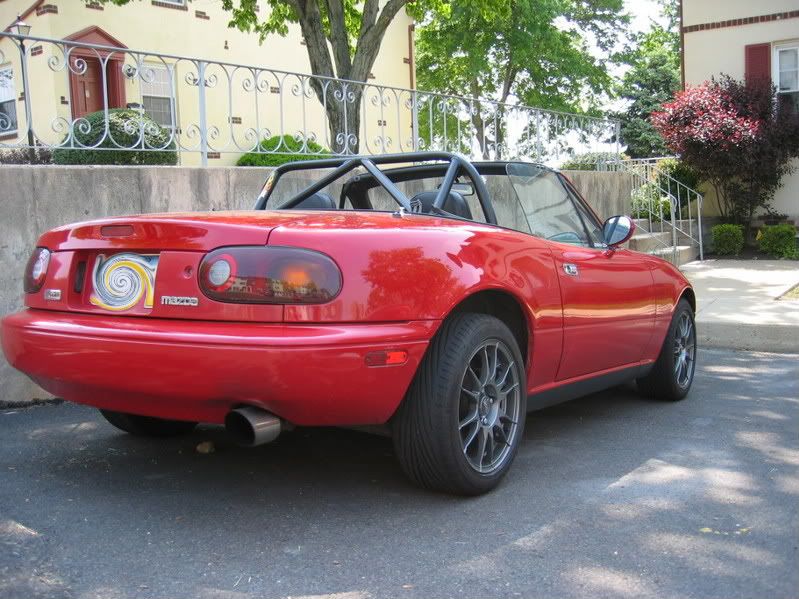 So "Yayy"'s driver's side rear caliper bit the dust. I thought it squeeked here and there, the brakes weren't as good as the '90 we had (I figured stock vs beefed up Hawk pads for racing) and low 'n behold, the caliper was giving up the ghost. Paul thinks we missed a symptom so that really made things annoying so we lost a day to that.
Under normal circumstances, we always look and verify everything is okay before inspection. Our home renovation made things a little more complicated and since we changed the brakes 2 years ago and just about everything that would make it fail inspection was pretty new for a 15 year old car – we figured everything would be fine. We upgraded the rear pads to some Hawks .I loved the way the '90 drove and broke, I thought the stock pads had a little to be desired and TireRack gets us next day delivery since they ship from DE – no brainer!
So tonight Paul is hoping to finish the bulkhead that goes above the pantry. I'm not sure what all he has in mind but I hope he can accomplish it.
Still no word on our flooring and where it might be in the port backlog but hopefully we'll get an update by the end of the week and it atleast ships next! *crosses fingers*
One last thing, got a call from the counter top people about coming to pick out a slab! I don't know when we'll get to go but I'm super excited!